ABOUT US
Welcome to our Central Fire
STAY CONNECTED  Join Our Mailing List
At Wisdom of the Earth, Nature

and

Connection are the Hea

rt of

eve

rything we do.
OUR MISSI

ON
We believe that deep connection with the natural world and a sense of belonging in community are foundational to our innate human blueprint, our original design. We are committed to providing nature and connection-based mentoring programs and experiences for all ages, to nourish and respond to the heart's deepest longings, to draw out and nurture each person's unique gifts, and to contribute to a regenerative culture for many generations to come. Scroll down to Meet our Team.
OUR VISION
We envision a world where people are fully connected to their gifts, to each other, and to nature; a healthy culture within a thriving ecosystem where every being's needs matter, and where gratitude, health, awareness, peace, joy, mutual care, and connection thrive.
GRATITUDE FOR OUR LINEAGE
At Wisdom of the Earth, we are working to co-create a culture rooted in the cycles and rhythms of Nature and anchored in traditional mentoring lineages from Earth-connected cultures around the world. We are part of a greater world-wide movement of deep nature connection, following a time-tested mentoring model based on the work of Jon Young and the 8 Shields Institute. Half of this model focuses on regenerating deep nature connection; the other half on deep people connection–Nature and Culture supporting each other for health and full aliveness, for a thriving future. 
We have a deep gratitude for all those who have walked before us. We acknowledge and honour those who have inspired us, and given lovingly of themselves in order to preserve the skills and wisdom from ancient times for future generations, in particular the following ancestors and teachers: Ingwe, initiated member of the Akamba tribe of Kenya; Jake and Judy Swamp, Wolf Clan Elders of the Akwesasne Mohawk Nation; traditional Lakota Elder Gilbert Walking Bull. We offer our profound gratitude to Jon Young and to Tom Brown Jr., for their work and deep commitment to the future generations. We give thanks to the many generations of mothers and grandmothers whose commitment to nurturing life supports ours now. We also want to acknowledge Jean Liedloff, Marshall Rosenberg, Inbal Kashtan, John Bowlby, and Masanobu Fukuoka, as having  deep influence on our work.
Without all your steps before us, we would not be walking the path we are now.
"My family is fortunate to have participated in several Wisdom of the Earth programs. It's a rare treasure to be whole-heartedly welcomed, both children and parents, into a community imbued with such meaning and kinship, play and curiousity. Each time I depart, I carry with me a deeper connection to the natural world, to my children, and to my own story. Thank you so much!"
~ Yael Wand, Singer-songwriter and Co-owner of Western Splendour Tours
"In wildness is the preservation of the world." — Thoreau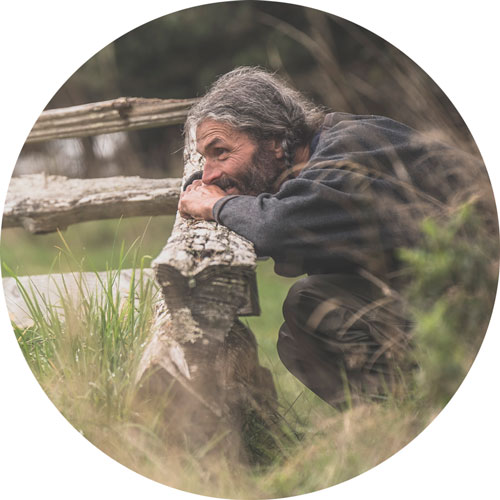 Jean-Claude Catry
Co-founder, Adult and Youth Program Director and Instructor
Jean-Claude Catry
is the co-founder of Wisdom of the Earth Wilderness School and has been studying, practicing and teaching wilderness connection skills for over 35 years. Originally trained as a physical education school teacher in his native France, Jean-Claude left the beginnings of a career as a professional soccer player when he almost died from a serious illness. This awakened him to a path of meaning and nature connection, and he spent over a decade as a mountain wilderness guide, leading groups of children, at-risk youth, and adults on horse, ski, and foot through the French Pyrenees, to support them in connecting to their inner Wild Nature. He established a remote mountain equestrian centre with over 150 horses, now run by a woman he mentored when she was a teen.
Jean-Claude has been an instructor at numerous wilderness schools and primitive skills camps throughout North America over the past 25 years. He lives and teaches through the Art of Mentoring, "coyote teaching," and the work of 8 Shields, developed by naturalist and tracker Jon Young, by whom he continues to be mentored. Having spent extended time alone in the wilderness, including mountain and coastal expeditions on foot and horseback, and a solo winter expedition traversing Yellowstone Park on skis, Jean-Claude has built a profound personal connection with the wild. "JC" is committed to designing programs and rites of passage to create a culture based on equal partnership for all beings, in the circle of interdependence. He is deeply committed to the work of cultural repair and village building, and to the well-being of future generations. He has a reputation for holding a passionate vision, for laughing easily, and for gentle, crazy wisdom.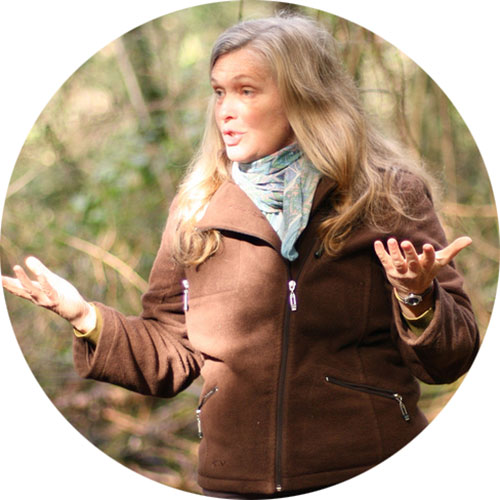 Ingrid Bauer
Co-founder, Administrator, Adult and Youth Program Director and Instructor
Ingrid Bauer 
is the co-founder of Wisdom of the Earth, and has been working with and sharing deep connective practices for over 30 years. The mother of 4 children aged 10 to 32, Ingrid is committed to growing peace from the roots by addressing how we practice compassion with ourselves and each other, how we nurture and educate children, and how we embody interdependence in creating communities that nourish and care for each living being within the whole web of life.
Ingrid is a sought-after International Trainer in Nonviolent Communication (CNVC), with a special focus on supporting parents and families, and community leadership. She holds a combined Honours B.A. in Modern Languages, Literature, Theatre, and Women's Studies, and left behind her Masters in Child Psychology to spend more time with her children and in nature. She is also the author of a best-selling book which sparked a world-wide movement of natural infant care and has been translated into 8 languages. Ingrid brings these influences, as well as her understanding of anthropological child-rearing, attachment theory, neurobiology, and a practice of deep intuition, to her work.
Ingrid is passionate about supporting next generations and cultural repair, the power of storytelling, ceremony, and music, exploring and embodying the sacred wild feminine, and healing the rift between feminine and masculine. Ingrid especially loves creating deeply connective village experiences, and has facilitated dozens of gatherings, camps, and events to help families and individuals connect more deeply with themselves, each other, community, and nature.
Ingrid has had many adventures, including canoe expeditions on remote rapids, braving sand storms in the Sahara, parachuting out of an airplane, and sailing a Chinese junk across the Atlantic. She has discovered, however, that her greatest challenges and growth inevitably happen right at home, in her own heart, endeavoring to live simple daily life with compassion, authenticity and mindfulness. She's not sure how she would have survived without a strong sense of humor, and a willingness to embrace despair, forgiveness, and hope.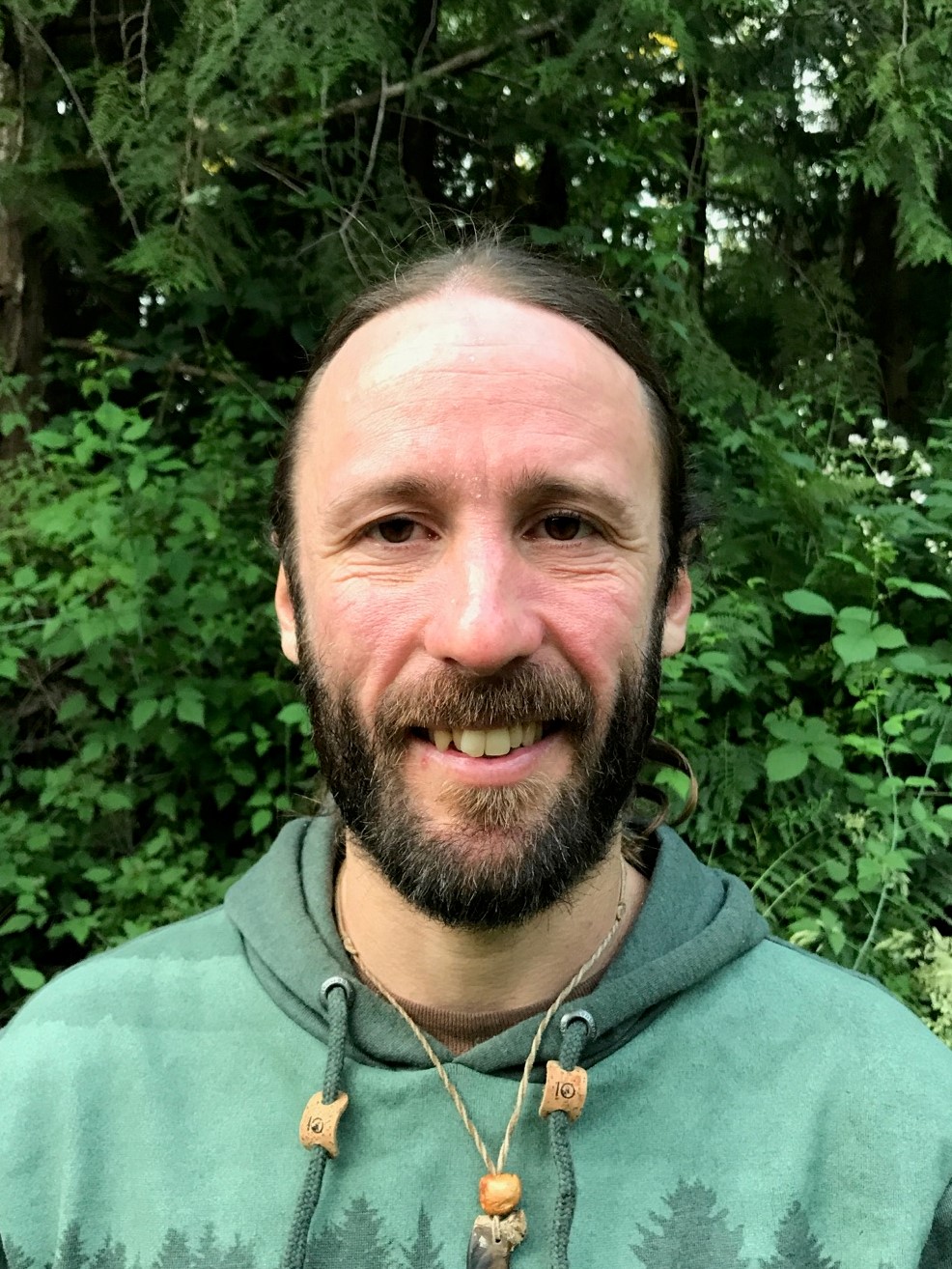 Arnaud Gagne
Adult Immersion Instructor
Arnaud Gagne has been teaching wilderness skills and facilitating deep nature connection for over 15 years.  He has worked with many well known organizations including Outward Bound Canada where he honed his advanced facilitation and mentoring skills. His deeper journey of connection to the natural world began with Jon Young's Kamana naturalist training program over 12 years ago. Arnaud proceeded to become one of the rare few to complete this self-motivated deep dive into the journey of seeing through native eyes. Many years of "dirt time" tracking, practising ancestral skills and building ropes of connection to all living things makes his knowledge very real and embodied. He walks in two worlds, integrating ancient skills and wisdom into a modern context. He continues to receive direct mentoring from Jon Young and the 8 Shields Institute in the arts of culture repair, village building and holistic tracking. He is also exploring the path of deeper connection, healing and ceremony supported by Sal Gencarelle and the Helpers Mentoring Society.
Arnaud is committed to helping restore a culture that prioritizes connection to nature, self and community for all ages and stages of life locally and globally. His vision is that in every person is a unique gift that is like a bird song. When someone sings their song, concentric rings of beauty ripple out into the world starting with their family and community, reaching all the way into the natural world and the future generations. Aligning our hearts and minds with nature supported by a healthy mentoring culture helps us find that song, the most powerful expression of our true self.
From interacting directly with the land as a hunter/gatherer and supporting connective community events to helping further the reach of the 8 Shields movement alongside it's global leaders, Arnaud lives and breathes these ways not only as a livelihood but as a lifestyle. Most people also find he has a creative, playful love for life and a good sense of humour.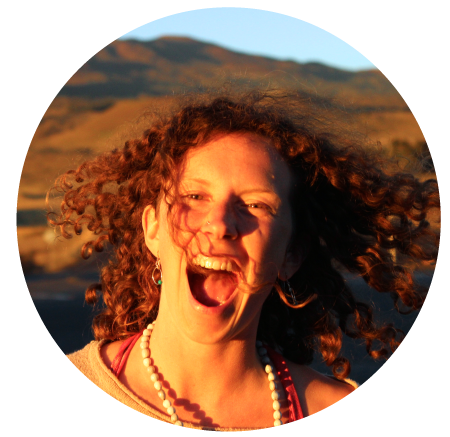 Alaina Hallett
Youth, Teen, and Adult Program Instructor
Alaina Hallett 
is an instructor for the WOLF Kids Program as well as the Wild Teens program, and helps with other Wisdom of the Earth programs. She is also the Youth Programs Coordinator and Lead Instructor for Thriving Roots Wilderness School in Victoria. Alaina has many years of experience running nature connection programs for youth and adults, ranging from the wild forests of the Pacific Northwest, to inner-city public schools of Vancouver, to therapeutic horticulture programs at the BC Children and Women's hospital.
Alaina trained for two years in the Wilderness Awareness School's Anake Outdoor Program and Anake Leadership Program where she was immersed in deep nature connection, wilderness living and the art of nature mentoring. She holds a Bachelors Degree in Public Relations and Community Service as well as a Certificate in International Relations and French Language from France. Alaina is passionate about nature mentoring and enabling students in their fullest and wildest potential. When not marveling at the magic of the woods, she can be found tending to her honeybees, practicing yoga, song catching and sharing, or listening to the birds.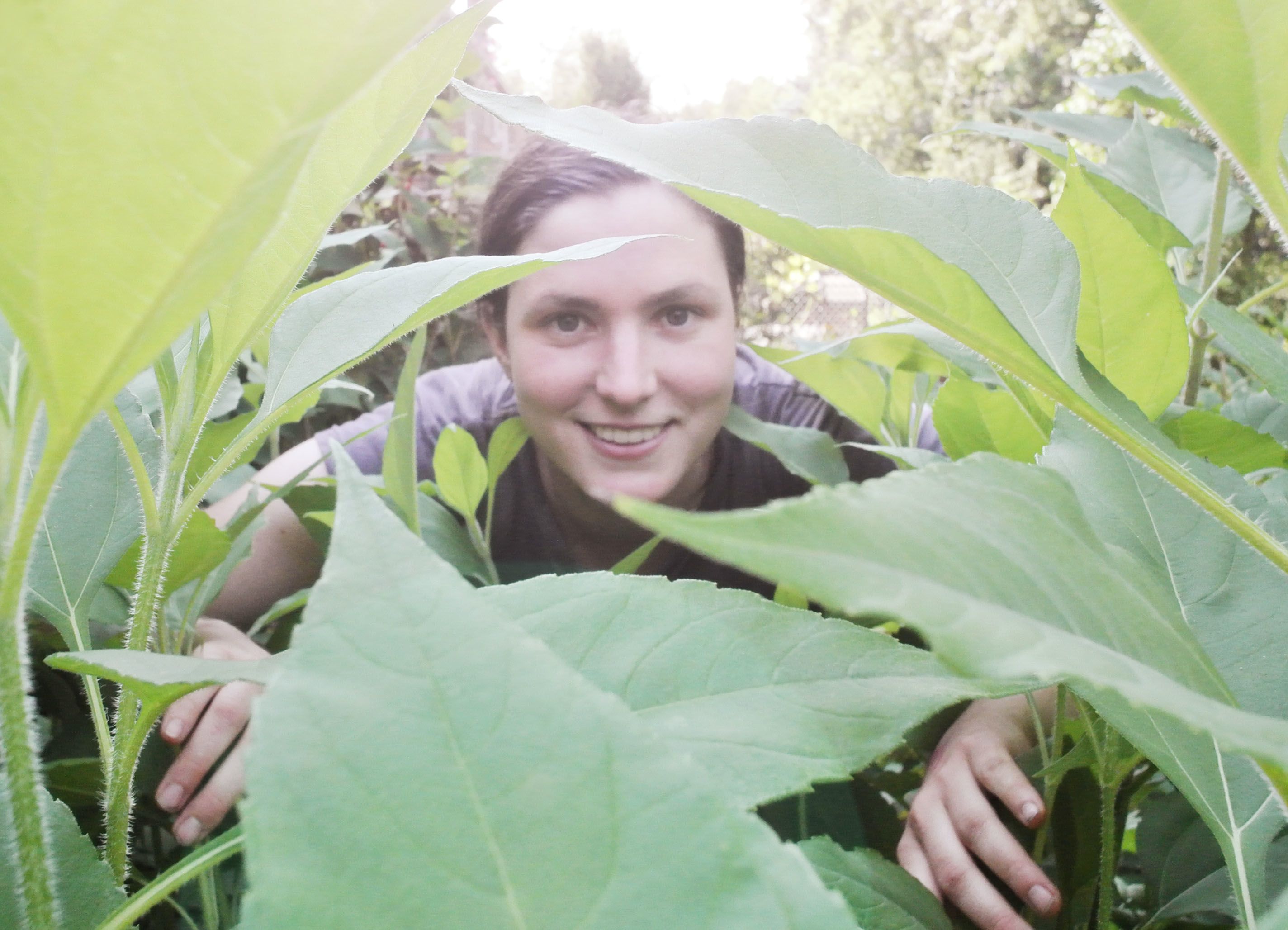 Marion Dulude
WOLF Kids Youth Program Instructor
Marion Dulude
is our newest instructor for our WOLF Kids program. Marion sprouted and grew up in Montreal's urban soil. Her greatest joys come from moments shared with beings of all ages exploring nature and re-learning how to learn with their heart, senses and instincts. She is passionate about wilderness living, 8 shields mentoring, social and environmental justice, biodiversity conservation and permaculture. She has been an environmental educator and nature mentor for the past 8 years working for non profit organizations, schools and summer camps on projects rooted in intercultural and experiential approaches. She has been running her own small nature school for the last 2 years, offering 5 different yearlong nature immersion rite of passage programs for youth, teens and adults.
As a wilderness guide she guides hiking, biking, canoeing, kayaking, winter camping expeditions that range from 3 to 14 days in Canada and the United States. She is a certified Wilderness First Responder. Her path has been joyfully sinuous, including formal education and less conventional education. She has a masters degree in Environmental Science, she completed the 2 year nature mentor program at Wilderness Awareness School in Washington state and she also trained with the School of Lost Borders to deepen her skills as a rite of passage guide. Ever since, she has been committed to weaving webs of inter-generational community to support people in the development of all dimensions of their being so that they can offer their unique contributions to their community and the world.
Marion enjoys all wilderness living skills yet botany, wild edibles and medicinals, tracking, trapping, hunting, fishing, wood carving, hide tanning, moccasin making and leather work surely hold a special place in her heart. She loves to bring her passion, skill and experience to the program and creatively collaborating with everyone!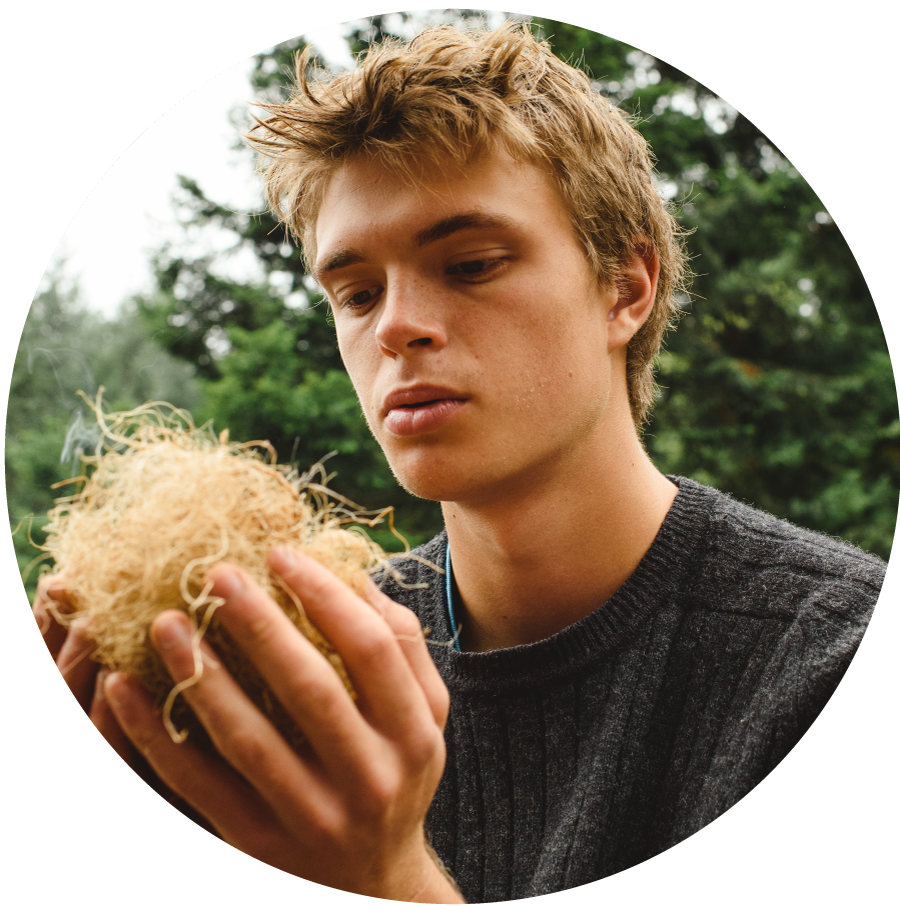 Ayden Catry-Bauer
WOLF Kids, Youth, Teen, and Adult Program Instructor
Ayden Catry-Bauer
is grateful to have been immersed in nature-based mentoring and primitive skills communities since before he could walk. He attended the WOLF Kids outdoor program on Salt Spring Island for seven years, where he was mentored in nature connection and wilderness skills. Ayden has continued to be mentored, as well as mentoring others, through the Wilderness Awareness School (WAS), and through Twin Eagles Wilderness School. He trained as a Mentor-in-training for two years with Twin Eagles, at various programs at WAS, including Wild Within and wolf tracking expeditions, and at the Art of Mentoring in Idaho and Santa Cruz. Ayden is a graduate of the the Anake Outdoor School at WAS, with additional certificates in naturalist studies and tracking. He is also a graduate of the Anake Leadership Program where he was an apprentice with the Anake adult immersion program.
Ayden has been an instructor at Wisdom of the Earth for the past 7 years, since his mid-teens. He was a full-time instructor for the WOLF program for 2 years, where he found meaning and joy mentoring children aged 8-14 throughout the school year. He returns from Anake to run several summer camps and teen programs, including the Art of Mentoring teen program, and will once again be a menor for the WOLF program as well as assisting with adult programs. He is also a popular instructor at the Firemaker primitive skills gathering, as well as the Nonviolent Communication Family Camp and other gatherings.
Ayden is passionate about fire making, bird language, music, and deepening his tracking skills. He is appreciated for bringing both a grounded, caring presence, and a very energetic, youthful playfulness to his work, particularly in his interactions with children. Ayden loves exploring nature by himself and with other people, practicing primitive skills, reveling in humour and shenanigans, and making music with his fiddle, guitar and voice.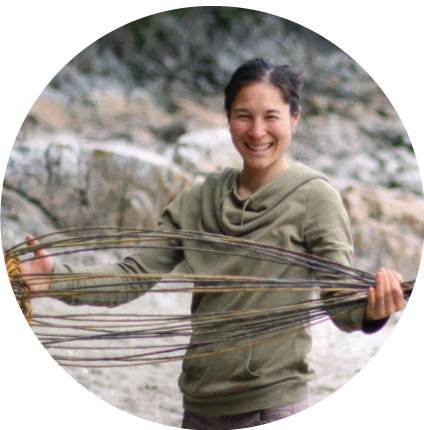 Michiru Main
WOLF Kids mentor, Bird Language Instructor, Village Supporter
Michiru Main
 is our newest mentor at the WOLF Kids program and brings a rich experience and a strong enthusiasm to her work. Michi attended several Wisdom of the Earth programs with her family and on her own over the years, including the 9-month Nature Connection Mentoring Journey. She has also participated in 8 Shields programs and the Art of Mentoring and Bird Language Intensive in California. She brings her passionate enthusiasm and extensive naturalist knowledge to her role as a mentor with WOLF, our Bird Language course and other programs, and provides crucial support to Ingrid and Jean-Claude for village building and Art of Mentoring organisation. She is extremely excited about the learning that occurs in nature–in particular through bird language–and about building community.
Michi has a MSc in Marine Ecology and Conservation, and has worked in education, marine interpretation, research and wildlife policy. Her primary passion for the past decade has been connecting people to nature, and people to people, by putting together marine mammal skeleton displays for museums and universities and running educational workshops in skeleton articulation.  For more information about this work, see www.cetacea.ca.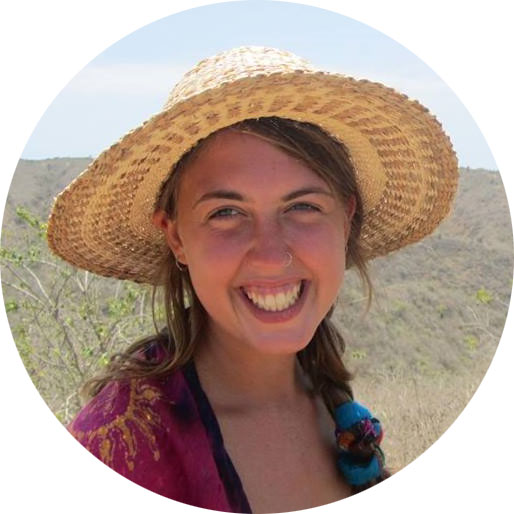 Bailey Dalton
Youth Summer Camp and Adult Program Instructor
Bailey Dalton
took her first survival course with Wisdom of the Earth eight years ago, which sparked her passion for earth-based mentoring. Since then, she has deepened her nature connection through training with various programs, including the Art of Mentoring and the Mentor-in-Training program at Twin Eagles Wilderness School in Idaho, a Vision Fast program with the School of Lost Borders in New Mexico, and through personal journeys connecting with nature and culture in South America, Asia, the Grand Canyon and along the west coast of North America. Bailey is a graduate of the Anake adult immersion program at the Wilderness Awareness School in Washington, with additional certificates in naturalist studies and tracking. She will continue her education as an Anake apprentice.
Bailey has a natural gift for compassion and people connection and is a popular mentor for our summer youth camps and at the Art of Mentoring. She has studied under Master basket maker Lionel Demandre, has supported the older WOLF Kids in making large pack baskets, and leads our basket workshops. Among other skills and passions, Bailey is a certified kayak guide, a talented cook, an experienced handy-person and house builder, and loves to watch birds, play guitar and sing.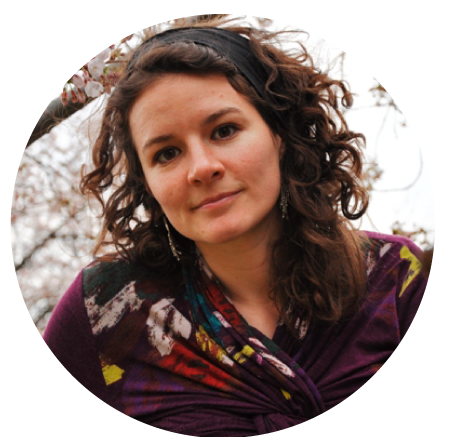 Vanya Laporte
WOLF Program Mentor (former)
Vanya Laporte
is a treasured member of our community who brought mindfulness practices, song and dance to her work with WOLF Kids for two years, helping to engage the children and families with the natural world around them.  She is very interested in how holistic practices can be integrated into daily life, helping people regain knowledge and live into their gifts.  
Vanya has traveled for 7+ years in rural areas throughout the world, visiting cultures and working with outdoor educators; enriching her insights into how to gather and apply healing techniques for the modern day person. She has trained with the P.I.N.E. Project in Ontario and run nature connection and environmental programs for children.  
Her gathered wisdom helps to inspire people to live fully through her practices as an Outdoor Educator, Conscious Dance Facilitator, and as a Holistic Practitioner (Birth Doula and Hakomi- Body Centered Psychotherapy).
Vanya is currently taking time off to take care of her newborn son, and loves to bring him to visit WOLF.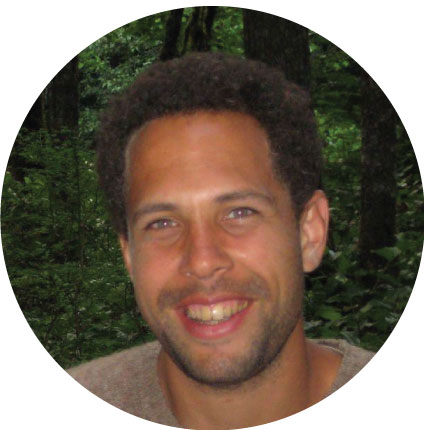 Frank Doss
Youth Summer Camp and Guest Instructor
Frank
Doss
 has been part of Wisdom of the Earth adventures since the beginning, when we were just starting out and he was living on Ingrid and Jean-Claude's land. Back then, he helped lead a regular Friday program for youth as well as other programs, and taught about edible/medicinal plants, fire making, navigation, living outdoors long-term, as well as martial arts and the ever-popular outdoor Ninja Camp. Frank has extensive knowledge and understanding of living connected to nature, both self-taught and from mentors in his youth and beyond. He now lives in the Comox Valley, where he runs the Matsukaze Dojo, when he is not wandering the forests or walking the length of Vancouver Island. He is a popular guest instructor when he's in the area, and has helped the WOLF Kids make beautiful bamboo flutes.
Frank has trained in many forms of Japanese martial and healing arts and has studied Ninjutsu for over 20 years. His focus in the past few years has been the use of martial arts principles as an effective way to bring about health to the body/mind/spirit by moving in harmony with the environment and rhythms of nature. He has trained everyone, from U.S. Special Forces groups, to 3 year old children. His favorite form of entertainment is philosophy, especially when expressed through playing music or sitting still and watching things go by.