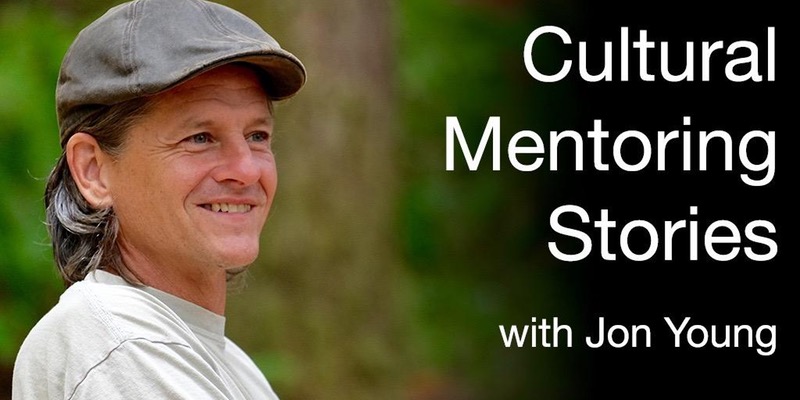 This event SOLD OUT quickly last year (2017)!! We are working on having Jon come for another set of stories some time this year. Join our mailing list to get the latest updates! Wisdom of the Earth presents: 2 days of Cultural Mentoring Storytelling with Jon Young Salt Spring Island
In this exciting Cultural Mentoring Stories Workshop, Jon Young takes us on a storytelling adventure to explore the workings of culture and nature and its applications in helping people connect with nature, each other, and ourselves. 
Jon Young has spent 30 years working collaboratively with indigenous elders and wisdom keepers from around the world to identify the universal tools that generate healthy, connected, and vibrant people and communities. During this journey, Jon held one question in mind: Why do some societies connect to nature so well, and others don't? The 8 Shields Map of Cultural Elements, essential to healthy culture, is a potent and effective response to this question. Jon, in partnership with Village Video, has launched The 512 Cultural Elements Project, to create 20-minute audio podcasts and videos telling the story of each of these Cultural Elements. During this event, Jon will illuminate a selection of the cultural elements and their relationship to healthy, community, nature, and ourselves, followed by Q & A after each segment. Ideally, the room will be filled with many 8 Shields experienced people to generate an "energetic field" for Jon's storytelling. Jon has specifically chosen the Salt Spring community for this reason. Come be a part of this historic project in the making! NOTE: This event is intended for Adults (or older teens) only.
COST of EVENT: TBA
MEALS:
Delicious, hearty, farm-fresh organic lunches (with dessert) by chef Haidee Hart are available for $?/day. Treat yourself! Lunches must be pre-ordered (or bring your own bag lunch).
DONATIONS:
The 512 Cultural Mentoring Project appreciates your additional donation to help fund Part One of this three part project:
Part One: Jon Young describes the Cultural Elements Part Two: The San Bushman being filmed embodying these cultural elements.
Part Three: Professionals in Neuroscience, Occupational Therapy, Psychology, and other disciplines, addressing impacts and outcomes of Nature and Cultural Mentoring in modern societies. 
For more information: info@wisdomoftheearth.ca